Reunion 2021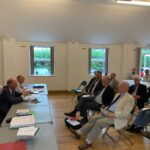 We managed to meet in person in Sept 2021, with the format somewhat changed to fit in with anticipated Government guidelines.
It was really good to see many members and associates back at the College.
Details, including audio from the two events in the Chapel are below the photos.
2021 Magazine

St. Michael's College Society 2021 Reunion Programme and Timings,
Saturday 25th September 2021
12:30 Buffet Lunch at Village Hall (partners welcome) Cost of buffet lunch: £12.50 per person. A variety of wines and soft drinks available separately from the bar. Please pay in advance using the details listed in the Magazine.
14:00 AGM in Village Hall, with on-line option for those who can't make the journey.
Following the AGM we have permission to access the (now closed) College grounds at 3.15pm. Meet outside the Old Building.
16:30 Sung evensong by Hereford Singers (followed by wreath-laying at Founder's grave and group photo on Cloister lawn) Audio Below
17:45 Recital to mark Lucian Nethsingha's contribution to St. Michael's College, given by Roger Judd and the Hereford Singers Audio Below