List of links to other sites connected with, or mentioning, St Michael's College
(please note these sites are not directly connected with the Society or College, and any views expressed are entirely their own!)
SMC Easter 1964 – https://www.youtube.com/watch?v=ISU-R3FE1es
BBC Choral Evensong broadcast 10th June 1959 – the oldest surviving BBC Recording from SMC  https://www.youtube.com/watch?v=dRvJh7Qjqxs
From 1985 until May 2020, SMC continued as a school, and latterly was part of the King's Group, but has since closed.
http://www.st-michaels.uk.com/index.php

Federation of Cathedral Old Choristers' Associations
www.onceachorister.org
Archive of Recorded Church Music.
Preserving a unique and priceless recorded heritage from choirs of gentlemen and boys singing i​​n the English Cathedral tradition worldwide from 1902 to the present day. The SMC Choir features on several of the archive recordings now held here.

Tenbury Wells: Including accommodation
Local community site:
Tenbury Wells information
Find out more about this glorious corner of England and why not come and explore?
Teme Valley
SMC – from the air
BBC Choral Evensong from SMC 10th June 1959
Ouseley
Ouseley Church Music Trust: 
The trustees of the Ouseley Church Music Trust administer the funds that arose from the closure and sale of St Michael's College, Tenbury – the choir school founded by Sir Frederick Ouseley.
The Ouseley Church Music Trust is a registered charity set up to promote and maintain to a high standard the choral services of the Church of England, the Church in Wales and the Church of Ireland. It does this by making grants to cathedrals, choral foundations, parish churches, choir schools and other relevant institutions.
Ouseley's Compositions
Cyber Hymnal, including several Ouseley tunes: Christchurch, Contemplation, and St Gabriel
http://www.cyberhymnal.org/bio/o/u/ouseley_fag.htm
It Is Not Death to Die Melody – "Tenbury", Frederick A.G. Ouseley, 1861 http://www.acronet.net/~robokopp/hymn/itisnot.htm
Discussion group 
Ex-pupils
Jonathan Harvey was a chorister at St Michael's College, Tenbury (1948-52), and was indisputably one of the most imaginative and innovative composers working in Europe in recent years. Jonathan Harvey
Other Music and Books
BODLEIAN LIBRARY, Oxford
holds the collection of the Music Library from St Michael's College
John Stainer 1840-1901 More
HAROLD WATKINS SHAW (1929-1996) Wikipedia
Watkins Shaw book on Ouseley, 1988, review click here
Heathcote Statham (1889-1973) studied at St Michael s College, Tenbury, and was Organist at St Michael's Tenbury (1920) Wikipedia
Nuns, Yes there were Nuns at SMC….well close by anyway, and old pictures of the Choir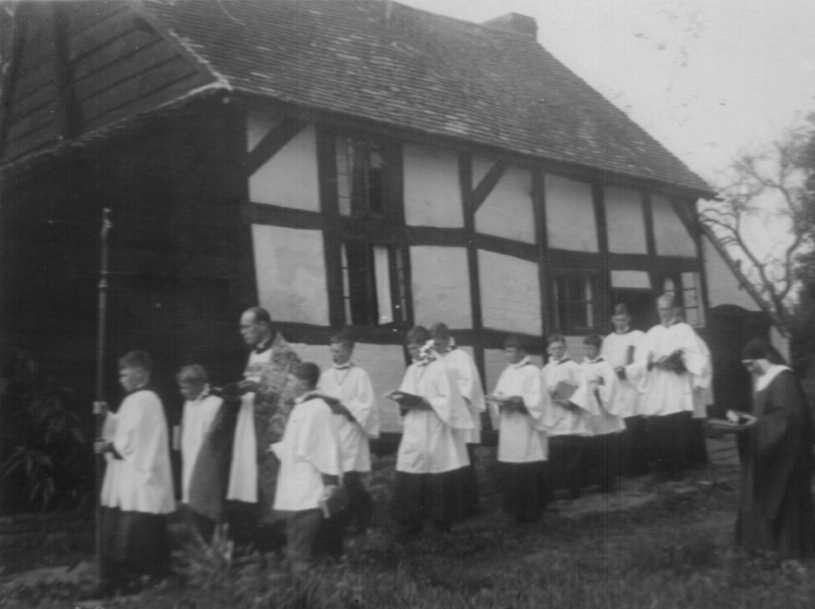 Cathedral Music