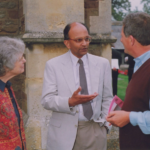 UPDATE Sept 21: Memorial Recital recording and tributes
It is with great sadness that we report the death on Friday 12th February 2021 of Lucian Nethsingha, a former organist and choir master at St Michael's. Lucian had been in poor health for a while, and latterly had been in a hospice in Cambridge.
Born in Colombo, Ceylon, in 1936, Lucian was educated at St. Thomas' College, Colombo.
In 1954, he went to the Royal College of Music and studied with Ralph Downes and Herbert Howells. He then studied music at King's College, Cambridge, with Boris Ord and David Willcocks. Lucian started at St Michael's in 1959, succeeding Kenneth Beard, and was organist and choir master until 1973, when he moved to Exeter Cathedral.
His successor at St Michael's, Roger Judd, described his distinguished predecessor as 'a lovely, gentle man, and a very fine organist and choir trainer. May he rest in peace.'
Our thoughts and prayers are with his family.
One of Lucian's lasting legacies was to ensure that the high standard of the Choir and Organ of St Michael's reached a wide audience. During his time at SMC, a good number of broadcasts were made, along with recordings for LPs such as
Sing Joyfully
, issued in January 1965. 
(Argo ZRG 5423, LP) 
The Choir of St Michael's College, Tenbury 

Directed by Lucian Nethsingha

"A Recital of Anthems from Tallis to Britten (sleeve notes by John Betjeman)"
A tribute to Lucian was broadcast on 19/02/21 on "Breakfast" on BBC Radio 3