A view of the Chapel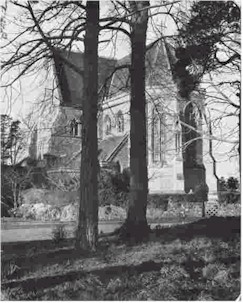 Nestling amongst trees, on the border between Shropshire, Herefordshire and Worcestershire is this rather unique place.
The College was founded in 1856 by Sir Frederick Arthur Gore Ouseley, Bart. It was to 'promise a course of training, and to form a model, for the daily choral services of the Church in these realms, and, for the furtherance of this object, to receive, educate and train boys in religious, secular and musical knowledge.'
It did much to maintain and even improve the standard of English Church music, indeed pleasant was the surprise of many of the standard achieved, not just once in a while, but day after day, in the daily round of choral worship.
Not some insignificant place was St Michael's. Some of the names associated with it read like a roll call of Britain's literary greats: Sir John Betjeman wrote…….
"St. Michael's College is a Tractarian dream come true. Its foundation stone was laid in 1854, and it was built and endowed by Sir Frederick Ouseley, a rich bachelor baronet, who came under Tractarian influence when an undergraduate at Christ Church. His musical talents were great and he sought to employ them for the Church of England which he loved and in which he became a priest. He was Precentor of Hereford Cathedral and Professor of Music at Oxford, where he raised that formerly disregarded faculty to one of eminence. At Tenbury he collected a library of music and musical manuscripts which is world famous. But chiefly Sir Frederick was concerned to train boys who as organists and choristers would be able to maintain the tradition of English cathedral church music. He, who had known Mendelssohn and Elvey, and employed Stainer as organist at St. Michael's, and influenced Parratt, established a musical tradition which has lived on and which has had a greater indirect influence on the Church of England's music than any other single institution. Ouseley intended St. Michael's to be what it is—the parish church of the district, with a resident choir and organist supplied from the College attached to it.…………"
A poem was written especially for the College's centenary Click here
More History
The College closed in 1985, and is now run as the UK base of King's College Madrid
The Society exists to keep old boys of St. Michael's in touch with each other, through mailings, and through an annual reunion dinner, held at the College.