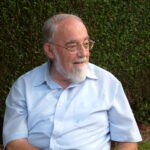 A tribute to Preb. Derrik Jenkyns (Old Boy of SMC 1941-1944), and former President of SMCS; died 8th March 2017
Recollections By William Jenkyns
Where to begin? The death of a parent is, of course, one of the hardest things one has to deal with. Though the more that I have spoken to people about my father and his life, the more I realise how many lives he touched, and how many people he helped, the greater the sense of loss and the wider the gap that he has left behind. 
So let's take a look at just some of the story, a story that begins in Wales, in 1930.
Born in Llandovery on 22nd October, Derrik was the eldest son of Rev Percy and Myfanwy Jenkyns.
Derrik's father moved to be Vicar of Bettws-y-Crwyn and Newcastle in the Clun Valley, and thus Derrik become an honorary Salopian. The winters at the Bettws were harsh, and so the family relocated to a bungalow in Newcastle-on-Clun, where things were slightly more temperate. Warmer but maybe not so happy, as Derrik is on record as having run away from home on his tricycle – he got as far as Newcastle Bridge, before being returned to the family.
But these early years were very influential for Derrik, and the seed of his lifetime love of the Welsh Borders was sown. The family moved to Broseley, where the growing family lived in the rectory; Derrik, brother Julian and sister Marina.
It was whilst at Broseley, that Derrik was exposed to two other life-long loves. The railway along the Severn Valley, and the school at the 'end of the line' so to speak, St Michael's College, Tenbury. Sights and sounds of steam and singing were to carry him through to his dying day.
Despite it being during war time, (1941-1944), one of the foremost influences of his entire life, was St Michael's College, Tenbury. The highest of musical standards, the liturgy, the friendships, were all things that shaped the person of Derrik into the one we knew and loved. The SMC effect was to spill over the generations and in 1972 son William was sent to experience Tenbury winters in short trousers too. 
Following his time at both St Michael's and then Ellesmere College, Derrik completed his National Service in the Royal Signals, before seeking a career with Lloyds' Bank. Here Derrik entered into the spirit of things, even taking up cross-country running where he regularly competed against two future Commonwealth champions who were also bank trainees.
It was whilst he was at Lloyds' Bank Hammersmith, that he felt the call to the ordained ministry. The manager at the time thought Derrik completely mad, giving up such career prospects, but we know that the Lord had other plans.
And so Derrik was selected for training at Salisbury and Wells Theological College, and it was here that another life-long love was forged – for it was in the Cathedral Close that he met the young Shelagh Watson, who was teaching in Salisbury.
Derrik completed his training, was ordained at Peterborough at Petertide in 1961 and they were married that August. So, the C of E was to be the place where Derrik, and Shelagh, were to serve in a total of 5 parishes, across the next 35 years.
Derrik started out as Curate in Kettering, serving under the watchful eye of Hugh and Edna Roberts. A spell with the Missions to Seamen in Middlesbrough preceded the next move. In 1964, Derrik was appointed to St George's Shrewsbury, as Vicar, and soon they became parents, as son William was born in the Vicarage that November. The family would be completed by the arrival of Jemma in 1968, also whilst still at St George's.
Shrewsbury saw much of Derrik's creative side to his ministry; the introduction for Tiny Tots, a service and fellowship for the younger members of the community and their mums. It was a huge success. He was chaplain to the RSI and other Shrewsbury hospitals, Derrik was also asked to be chairman of the Showman's Guild, and was often to be found blessing the 'Dodgems' when the fair was in town, but also acting in a pastoral capacity to the travelling families.
In 1971, Shropshire was left behind, albeit temporarily, with a move to be Vicar of St Paul's Wood Green, Wednesbury. This urban parish had its fair share of challenges, and Derrik made a great impression, even before he got there. On the morning that his appointment was announced in church, a huge stone memorial to the church benefactor fell from the wall with a resounding crash. A sign of things to come? No, the five years that Derrik and the family spent here were to be some of the most productive and influential in his ministry.
Stewardship and street warden schemes, the financing, building and consecration of a new church in the parish were all things that Derrik brought to bear serving others as the Lord intended.
In 1976, Shropshire was calling again – this time South Shropshire and Stokesay in particular. One important factor which swayed the decision to move to Stokesay Vicarage was the immediate proximity to the Cardiff-Crewe rail line; passing steam locomotive excursions could be viewed from the Study window. 
 The ensuing ten years saw many bridges being built, relationships between the various churches in Craven Arms were strengthened, and several social action initiatives were founded – Ludlow's C.A.B., a respite home for the elderly in Ludlow, and a permanent travellers' site in Craven Arms were all projects which found Derrik at the heart. The location also meant that he was often invited to preach at St Michael's on Sunday evening, always to an attentive congregation and always with 'props'; I recall recordings of steam locos featuring quite often from the pulpit, and always these homilies brought an apt theological message to the hearers.
It was during the early 80s that south Shropshire was introduced to its "Radio Reverend". Sunshine Radio, at the time an illegal pirate radio station, was on the air broadcasting to many thousands of listeners, and Derrik saw the opportunity to share the Gospel message through this medium. And so "Sunshine on Sunday" was born, a 5 min. feature which ran every Sunday morning, presented as "Rev Derrik Jenkyns", the only person on the station not to hide behind a pseudonym. When asked why he had decided to take on this radio slot, Derrik quoted 1 Corinthians 9 – Woe is me if I preach not the Gospel.
Whilst at Stokesay, Derrik became Rural Dean of Condover and Prebendary of Hereford Cathedral – increasing his workload but also his sphere of influence and service.
The final parish calling came in 1986 when they moved to the Kington group of Parishes.
Derrik and Shelagh retired in 1996, and went to live at their cottage in the hills, Llantroft, near Llanfair Waterdine. Still in Shropshire – just. They split their year between this rural idyll and a house in Ludlow.
They say that the retired are busier than those who work, and this would seem to have been the case with Derrik. As well as being a life member of the Severn Valley Railway, he continued his Franciscan Third Order devotions, and also for some 20-odd years strode out as a lengthsman with the Offa's Dyke Assn, where, with knapsack and hammer in hand, he was responsible for looking after one section of the Dyke path, from Garbutt Hall to Spring Hill, checking that the signs and styles were in order. Other interests included developing the work of the Bishop's Castle Railway Society. 
Above all, Derrik remained a faithful and involved member of the St Michael's College Society, excited to return each year to that corner of Oldwood Common, where so many memories were forged and rekindled, and, when called upon, Derrik stepped up to the role of SMCS President; he lead the Reunion Evensong for many years, and was part of the annual reunion and dinner, as recently as 2016. Derrik often recalled the friendships he had with the likes of Katie Ashley ("there was life after French") and how in the late 1950s he became the driver to sub-Warden Canon Monty Alderson, taking him on incredible adventures all over the south of England, right up to the end of Monty's days. How Derrik loved those times.
Derrik's work as hospital chaplain had stood him in good stead to fully appreciate the work of the NHS on a more personal level because he was something of a walking miracle. Five hip replacements and a quadruple heart bypass all helped Derrik to enjoy a better quality of life into what would have been his 87th year.
He and Shelagh celebrated their 55th wedding Anniversary in August 2016; a great weekend of celebration.
Sadly this elation was to be short lived, as Shelagh was taken ill three days later, and died shortly afterwards in hospital. This great shock and sense of loss was felt by many far and wide, but of course by none so much as Derrik. He continued to try to adjust to life without her, to life on his own, and despite the support of family and close friends, and Sylvie, his 'guardian cat', it was always going to be a struggle.
Following a fall in February 2017, Derrik was admitted to hospital, firstly to Hereford and then transferred to Ludlow. The level of care given by the staff at Dinham Ward was quite simply above and beyond the call of duty. Derrik's last few days were made as comfortable as possible, with high levels of professionalism but also compassion and understanding.
At the heart of Derrik's ethos, behind the dog-collar and the 'badge of office', was a deep conviction that the way of the world and efforts of mankind should be that of peace. He was a man who avoided conflict, and one of his last comments, made in hospital, was that he would urge us all to seek peace where it can be found, following the example of that great Prince of Peace.
I mentioned the influence of SMC; and I witnessed that early influence of St Michael's College that ran through Derrik's life, right up to the very end, as, a few hours before he died, we sat together listening to Choral Evensong on Radio 3, with Derrik mouthing the words on the broadcast and feeling ever closer to and at peace with, his maker, as he had done so many times, so many years ago as a boy, and later as an Old Boy, beneath that soaring timbers of Ouseley's chapel.
As Christopher Hassell wrote of St Michael's: "Night after night, whispering gravely to the radient constellations – God is a spirit, God is a spirit and we must worship him, must worship him in spirit and in truth"
Derrik's passing was hard to come to terms with, but I know that we all feel enriched by the memories that we have of him, and his influence on our lives.