BBC Broadcasts and recordings from SMC
From the very early days of broadcasting, St Michael's College, with its superb choir and 'Father' Willis organ, provided the high standard required by broadcasters and recording companies, and in doing so brought the College and its choir to the awareness of a wider audience.
Former SMC Pupil Frederick Appleby has compiled the following list of known broadcasts and recording, and have allowed us to host the details here.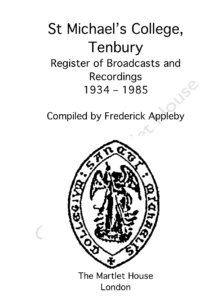 If you have any privately made recordings that could do with finding a wider audience, please get in touch.